So I had the opportunity to be the designated blogger at the Fierce Reads tour stop in Memphis. I was so honored, and immediately accepted. Yesterday, I ended up driving over three hours to Memphis. I got there early, took a look around the store (which was huge!) and had a quick bite to eat. Then it was time for my meet-and-greet time/interview with the authors. I had 10 questions to ask them, and the girls made those 45 minutes feel like only 15. Seriously, all four authors on this tour are so amazing, funny, and awesome!
I was thinking about recording my interview with the authors, but that didn't work out because my phone charge was less than half. I ended up taking quick notes, writing down the author's response.
Question 1: Who is your current YA crush?
-A: Warner in Shatter Me/Unravel Me by Tahereh Mafi
-E: Tom in Ashes by Ilsa J. Bick
-L: Tarver in These Broken Stars by Aime Kaufman and Meagan Spooner
-J: Prince Maxon in the Selection/The Elite by Kiera Cass
Question 2: Favorite read of 2013 so far?
-A: Unravel Me by Tahereh Mafi
-E: Dog Star (I think by Peter Heller).
-L: The Bitter Kingdom by Rae Carson
-J: Eleanor and Park by Rainbow Rowell
Question 3: Currently, who has been your favorite character to write (minor or major character).
-A: Toraf
-E: Max
-L: Sturmhond
-J: Mentioned this character is in the sequel to Unremebered, but she can't reveal who "it" is. Ended up saying that Cody was her favorite.
Question 5: How do you balance reading and writing.
-Everyone pretty much said they didn't keep up with their reading. Writing takes up more time, and they can't read while writing.
-Jessica mentioned that Audible was a lifesaver, when it comes to keeping up with her TBR pile.
Question 6: What is your writing routine/Where do you write?
-A: Can't write at home. Has to go out and write. Often makes rounds with the coffee shops, hoping she doesn't stay too long for employees to notice she's loitering and not buying anything.
-E: Emmy likes to write outside too, but when she's at home, she has an extensive prep process. She takes off her wedding ring, she has music/background voice, and lights candles. This was apparently a side to Emmy the other authors did not know about.
-L: Loves to go on "writing dates" outside her home. They provide "surveillance" to make sure they're not using the internet, being the distracting thing that it is.
-J: Writes at home and outside, but prefers outside. When at home, she has a "ravenclaw" flag outside her door as a "do not disturb" sign. She also drinks lots of coffee, only when writing, and has a white noise track she puts on repeat.
Question: 7: Biggest misconception about being published.
-A: That you get rich.
-E: That you'll have it made after publishing your first book, and that self publishing is easier.
-L: That writing and publishing a book is a solitary thing. There are just so many people involved in getting a book published. Much more than people realize, at first.
-J: That Authors get control of their covers, and that publishing is a quick process (it's actually VERY slow).
Question 7: What advice would you now give to your unpublished self?
E: Check your facts and set up your sequels better.
A: Make better villains. Anna mentioned how marketable good villains are, and that she feels her book misses out on that opportunity.
L: Kill doubt. That you are going to make it through.
J: Meet more authors (they are a great support group)
Question 8: What would you do if you didn't write.
A: NASA
E: Voice over actor/Director or a dullah/midwife
L: Make up artist. Although Leigh says she would be very sad to go back to that job. Writing is her passion.
J: Blackjack/poker dealer.
Question 9: What were the biggest obsticles while writing your first published book.
A: People kept telling her she'd never get published. That she couldn't do it.
E: She was too wrapped up in caring for her children. It took some time for her to realize she needed some form of creative outlet, and once she found it, things started to fall in place.
L: Struggled with starting and never finishing so many book ideas. Felt, when writing Shadow and BOne, that this would end up the same way: unfinished.
J: Writing a sellable book. Had queried, but took some time to establish a story and plot that would be engaging enough for readers. It took time to finally that write story.
Question 10: So you've been on tour for about a week--any fun stories you'd like to share.
-When Anna Bankes received the phone call that she hit the NYT bestsellers list. She was on the phone, crying and everyone thought someone was hurt or dying. They were in Las Vegas, and it was the perfect place for the four authors to celebrate Anna Banks hitting the list.
-Apparently, Leigh loves bananas. Jessica Bosworth presented Leigh with messages on bananas last year, on tour. Someone, this time around, has been sneaking bananas with messages in her purse. She still doesn't know who is responsible. My guess? They are all in on the banana think, but Anna came up with the idea.
So that's my exclusive interview with the authors. Then it was time to start the actual event. I took my front row seat, and listened as Justine Magazine moderated the panel. Each author introduced her book, and were then peppered with questions. Instead of giving every question and answer, I'm just going to highlight some of my favorite (and funniest answers).
One word to describe your book? Emmy said "torque", Jessica said "memorable", Anna said "romantic", and Leigh said "epic".
Emmy mentioned how she would like Josh Hutcherson to play Jake in her book.
Jessica Brody would like to have the superpower to be immune to calories (I would too!)
In an apocalyptic world, Anna said she would miss fried chicken. Leigh said she would miss Project Runway.
Leigh said, when asked what time period she would most like to visit, she said every place in history has an unappealing aspect. She'd like to go to the future instead.
Emmy's book, Monument 14, was originally titled We Are Value Marked. Leigh also went through some title angst. The book started off as The Darkling, then Grisha (but people kept thinking she was saying Grecian), until she settled on Shadow and Bone. Then Daughter of Smoke and Bone was coming out, as was The Book of Blood and Shadows. Leigh mentioned how they might have to end up doing a "Panel of Shadow, Bone, and Smoke". I think that would be awesome!
When asked about any "funny stories" surrounding their book, Jessica said Dr. Maxxer was actually a boy. Until the editors pointed out that all the research/medical specialist people were men. So she changed Dr. Maxxer into a boy, but not all the "changes" were fixed in the ARC of Unremembered.
The page count in Monument 14: Sky on Fire is actually 45 pages more than the original ARC. There were issues with having a larger page count, so they made the font smaller. Page count is the same, but there are definitely more words in the finished copy.
When asked if they outline, Anne compared outlining to wearing a bra in the shower. She feels so constricted. She rarely knows the ending of her book. She likes writing by the seat of her pants.
It was such an awesome panel! Thanks to Fierce Reads for stopping by, and thanks to the authors who made the trip totally worth it! As part of being the designated blogger, Macmillian has offered up a signed copy of each author's most recent title. Enter by using the raffelcopter below.
Some rules:
1. Must be 13 years or older.
2. You MUST be living in the US. Sorry international people.
3. You MUST respond to the winner notification email within 48 hours, or another winner will be selected.
a Rafflecopter giveaway
And now some fun pictures. Side note: the authors totally did these poses on their own. I just went along with them. These girls are just hilarious!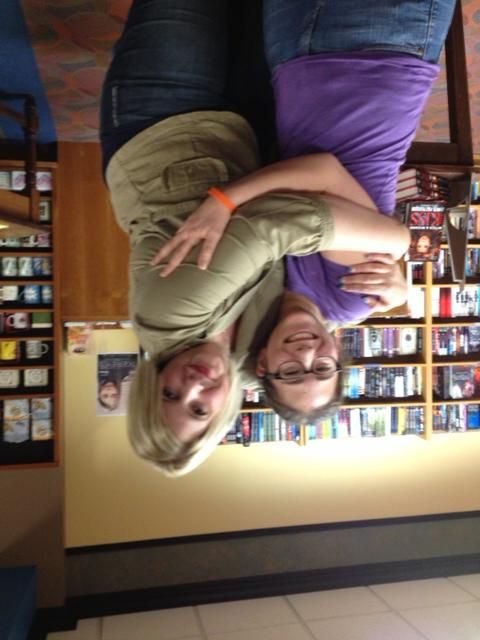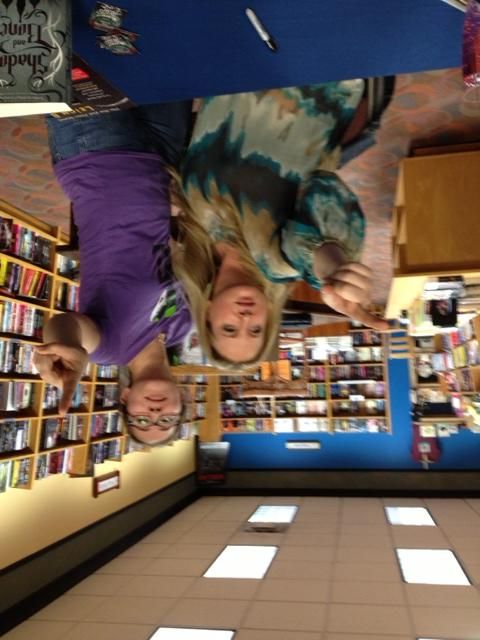 Acting like the Captain. Sort of.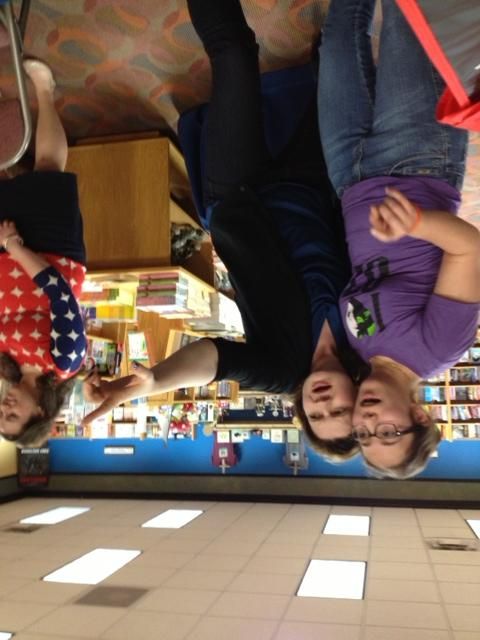 There's an oncoming storm!!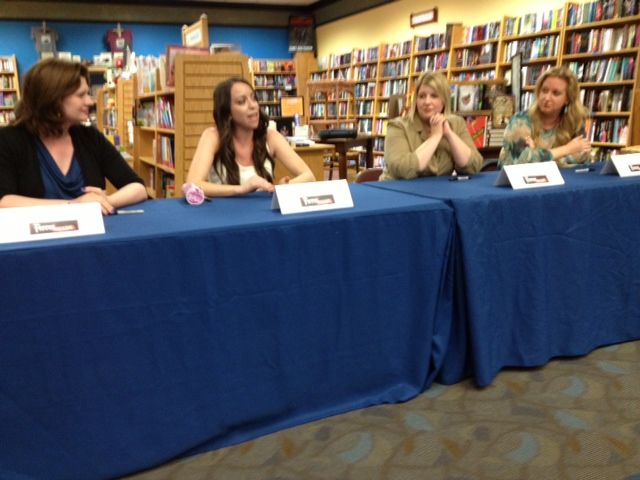 Lastly, the Fierce Reads tour is still going on. Check out the Fierce Reads
Facebook
page to see their upcoming stops! You don't want to miss it if they're going to be at a city near you!