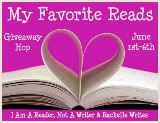 Okay, ladies and gentleman! It is giveaway time!
Up for grabs is a copy of The Girl of Fire and Thorns. My review hasn't been posted/written yet (it will be posted on Monday), but believe me when I say that this is such a fantastic book! My favorite of 2011. I adore it to pieces and I hope to share this love with you all.
And if I get more than 250 entires?
I'll throw in e-book copies of Sarah J. Maas' e-novellas: The Assassin and the Pirate Lord, The Assassin and the Desert, and The Assassin and the Underworld. I've give each of these novellas 5 slices.
So, are you interested? Do you live in the
US?
Enter the rafflecopter below if you want to win. Good luck! Contest ends
June 7th at 12:01 am.
I will then notify the winner and they are expected to respond within
48 hours
with a mailing address and/or amazon e-mail. Should I get no response
I reserve the right to choose another winner.
a Rafflecopter giveaway